Go back
Collaborating for change: a model Community Climate Action Hub
•
2023-02-13
•
The Edinburgh Community Climate Fund
•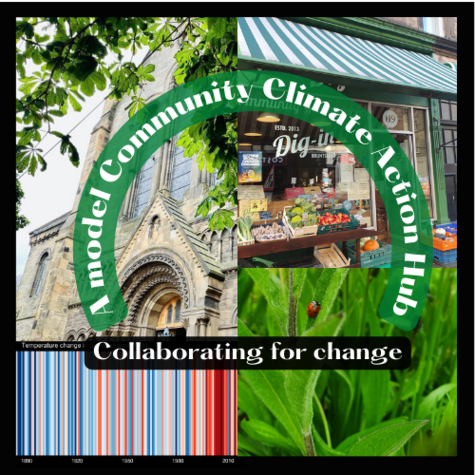 ---
Investment project code: 56
The strength of our local community collaborations will determine whether we can meet Edinburgh's climate targets. Collaborating for change is about connecting the dots, uncovering the mycelium network that already exists in our local communities in order to act.
We will show how one of the greatest climate actions we can take at community level is harnessing what we have - bringing together existing knowledge, skillsets, activism and passion to create a Community Climate Action Hub. And if we can in our community, you can too! 
Collaborating for change is led by Dig-In Bruntsfield and hosted by the Eric Liddell Centre (ELC). We will use project funding to develop, promote and deliver a series of free, community climate-focused events which harness our existing community organisations, knowledge and activism. The project will culminate with a Community Climate Fair (CCF) and establishment of a Community Climate Action Hub (CCAH) - a model for collective climate action in communities across Edinburgh.
We will use funds to: 
Host free climate smart food events. Empower our community to take climate action through food - hosting a series of  'CCAH: Climate Smart Food' workshops. Healthy, plant based recipes and skills will be shared – in collaboration with guidance from local nutritionists and with the local food community: Rhyze Mushrooms – who grow edible mushrooms through circular economy in urban waste streams and Edinburgh Fermentarium who make and teach healthy, plant based recipes.  We will work with local growers and cooperatives - The Free Company, Balerno and New Leaf Co-op. 
Restore and protect nature. The project will undertake seasonal meadows and tree planting with local organisation Friends of the Meadows and Bruntsfield Links (FoMBL) - expanding the existing wildflower meadow on the Bruntsfield Links though a 'CCAH Nature: Planting Pollinators' event which will engage the local community in nature based climate action. A project to co-create signage for the meadow will be run with schools – highlighting links between food systems, nature and climate action.
Host an inaugural Community Climate Fair.  In collaboration with Bruntsfield Area Net Zero Action Initiative (BANZAI) who, in addition to nature and food, have local community circles focused on transport, home energy and activism. The fair will launch the Community Climate Hub and will showcase the project work, bringing together project partners and wider organisations, local suppliers and makers as well as inspiring speakers. 
Establish the Community Climate Action Hub - chartering our project organisation and the wider community for collective, continued action which leverages existing community groups and activity. 
Location: 119 Bruntsfield Place, EH10 4EQ
Proposed on behalf of: Dig-In are a community owned not-for-profit greengrocer, selling locally sourced sustainable fruit, vegetables and wholefoods to Bruntsfield and wider communities.