Go back
Trash into treasure.
•
2023-02-10
•
The Edinburgh Community Climate Fund
•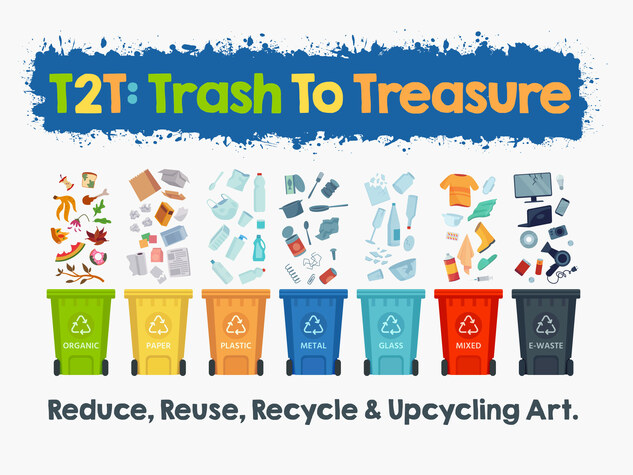 ---
Investment project code: 28
The project aims to adopt eco-friendly practices, reduce structural socioeconomic inequalities, improve wellbeing through art, and reduce consumerism.
Scotland intends to achieve net-zero emissions by 2045. This environmental strategy includes waste management as a key element. To become a zero-waste society with a circular economy, Scotland must increase resource reuse, recycling, and recovery while decreasing waste production. To help towards this goal, we must all reduce the number of things we consume, reuse items rather than throw them away, and recycle everyday waste materials at home, school, and work. It is not always easy to change our habits, but we can all take small steps to slow or stop climate change. And we must all work together!
The Trash into Treasure project aims to improve connections between South and North Edinburgh and to unite our efforts to combat climate change. Trash will be given artistic value during the project through creative repurposing (Treasure). We will teach science and co-create art with primary school pupils (at Bruntsfield Primary School and 14 other schools in Edinburgh) and local communities in both South and North Edinburgh. We will collaborate with professional artists, teachers, local groups, neighbourhoods, and community hubs (the Eric Liddell Centre, North Edinburgh Arts, and the West Pilton Neighbourhood Centre) to host creative art workshops using waste materials, hold public talks about waste reuse, recycling, and repurposing, and develop educational materials for primary schools in Edinburgh!
Location: Edinburgh South and Edinburgh North. Group location: Bruntsfield Primary School.
Proposed on behalf of: The Bruntsfield Primary School (BPS) Parent Forum (PF) is a thriving community of parents/carers whose children attend the BPS in Edinburgh. Its Parent Council (PC) is the Forum's business committee that organises and coordinates the PF's activities. The PC's responsibilities include liaising between parents, the school, and the local community to organise/run a variety of activity clubs, fundraising activities, and social events. The PF has several active special interest sub-groups that aim to advance certain goals that benefit the PF. The sustainability group (in operation since 2022), has created and has been sustaining a community of parents/caregivers, pupils, and teachers that is dedicated to the four pillars of sustainability: human, social, economic, and environmental. The sustainability group engages with other eco-groups in Edinburgh's schools and neighbourhoods (e.g., BANZAI network).