Go back
Foraging a Feast at Forest Friday - with Trees and Seas Outdoor Adventures
•
2023-02-10
•
The Edinburgh Community Climate Fund
•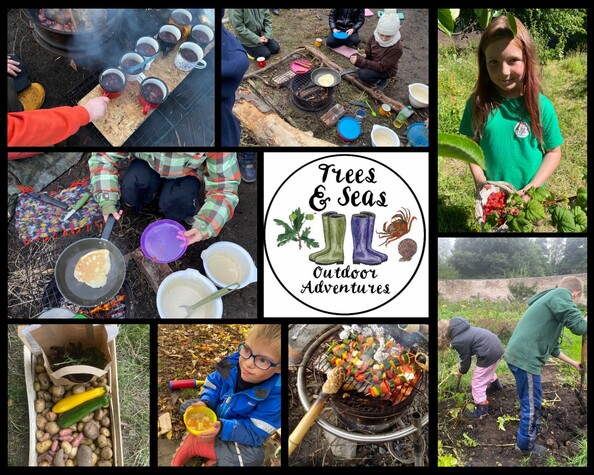 ---
Investment project code: 33
Foraging a Feast at Forest Fridays
Our project - Foraging a Feast at Forest Fridays - will provide weekly outdoor sessions to children aged 6-12, teaching practical and sustainable skills based on the food growing cycle: planning; planting; harvesting and foraging food from that grows wild on the sites, working in partnership with two community gardens: Transition Edinburgh South (TES) trading as Gracemount Community Garden at Gracemount Mansion Development and Bridgend Farmhouse Community Allotments situated next to Craigmillar Castle Park. Children will use what they've grown to cook healthy food and will share a hot meal together at the sessions, a perfect activity for nurturing neighbourhood relationships. Both gardens are situated in areas of high deprivation.
Sessions will run during term-time for a year starting Spring 2023 and will benefit approximately 30 children each week. There will be gardening clubs throughout the holidays to maintain the plots supported by the community gardeners from both locations. The local produce grown by the children will be available for the community as well as the parents and carers to take home for free so that the families can benefit from fresh, organic 'field to fork' food.
Sessions are fully inclusive. We expect that 40-50% of the children in each session will have Additional Support Needs such as Autism, ADHD, and Down Syndrome. Our organisation Trees and Seas Outdoor Adventures is one of the main outdoor play/forest schools in Edinburgh that offers outdoor learning to children with Additional needs and disabilities. This funding will help us to continue to reduce both the barriers of disability and deprivation, allowing children of all abilities and circumstances to benefit from exploring and enjoying the natural spaces in their local communities. They will learn to care for and take pride in their environment, generating both climate resilience and sustainable-focused learning.
Forest Friday sessions were established in 2019. Connecting with these communities for four years has allowed us to work in a responsive way; recent feedback suggested that we offer food-focused activities. Lauren 12years said: 'more cooking!', Isobel 10years said 'maybe something other than soup?' and one of our parents asked: 'can you continue to offer seasonal cooking, foraging and other things related to nature?'. If successful, the funding would allow us to continue to run this important community service free of charge.
Location: Gracemount Mansion Community Gardens & Bridgened Farmhouse/Craigmillar Castle Park
Proposed on behalf of: Trees and Seas Outdoor Adventures CIC is a small social enterprise intent on encouraging children and families to prioritise time in the outdoors. Children can enjoy the benefits of outdoor play and forest school type activities, while connecting and caring for their local environment. Our sessions run weekly, they are child led and we encourage lots of free play. However we do have many play invitations/activities for the children to engage in, if they wish. The sessions are supported by attuned and attentive adults who are there to support and facilitate as necessary. We use local woodlands that are accessible to local families. And in the warmer months we travel down the coast to run our beach sessions. Activities have minimal impact on the environment, and good practice aims to 'leave-no-trace', or have positive environmental benefits. This is a huge part of outdoor learning and the forest/beach school ethos, children will learn to care and respect for their areas and environments.