Go back
Wester Hailes Summer School Farm
•
2023-02-11
•
The Edinburgh Community Climate Fund
•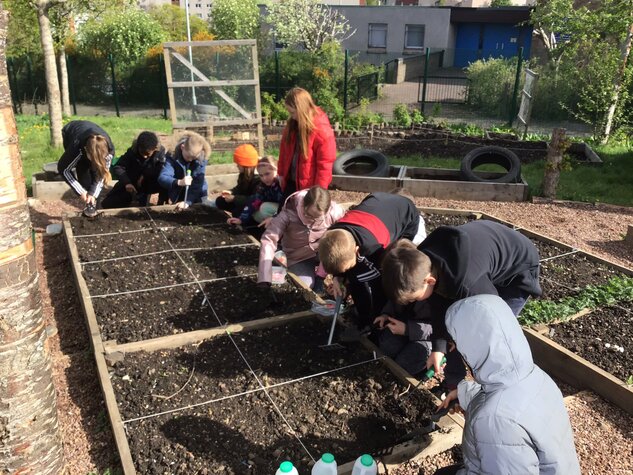 ---
Investment project code: 44
We want to build on the success of our 'School Farm' projects delivered during term time at both Canal View and Sighthill primary schools by offering a 'Summer School Farm' project, for pupils and their parents/carers to engage with so the pupils can continue to practice the skills learnt during term time and share them with their families. This will be delivered from the existing Greenway Community Garden between Murrayburn & Hailesland. As part of the project each family would be able to register for a free growing space as well as make use of the polytunnel and communal fruit orchard around the perimeter of the garden. To support the families and deliver the activities we want to recruit two sessional workers to deliver the programme over the summer holidays. The sessions will run for two hours, 4 times per week. 
The programme would cover the basics of food growing and the benefits of growing it locally right on your doorstep, reducing food miles and food waste. 
Knowing your soil
Growing food from seeds
Crop shelter/protection
Managing and growing crops
Harvesting and storage
Fruit and forest gardens
We will intertwine fun climate activities for the children as well as incorporating weekly picnic events where fresh produce will be prepared into delicious meals and shared by the participants and wider community.
Location: Wester Hailes
Proposed on behalf of: Wester Hailes Growing Communities (WHGC) established as a Scottish Charitable Incorporated Organisation in 2017, supporting residents of council estates and other communities in Wester Hailes to work together with their neighbours, instigating and developing community greenspace projects. Addressing mental & physical wellbeing, food poverty, isolation, and unemployment directly we have sought to use the wide expanses of amenity grassland across the estates as a community asset. WHGC have constructed three 'neighbourhood gardens' each serving a part of Wester Hailes and gone on to deliver a range of associated projects including community food activities, outdoor play workshops for children, training and work experience projects for young adults, and School Farm project in local primary schools. By creating places and activities for people to come together, we aim to build a sense of belonging and mutual support which increases the resilience of communities, regardless of gender, age, ethnicity, or financial circumstances.