Go back
Edinburgh Building Retrofit & Improvement Collective
•
2023-02-12
•
The Edinburgh Community Climate Fund
•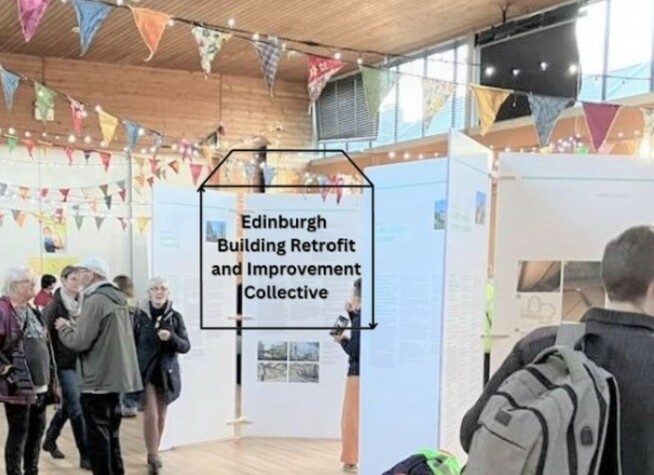 ---
Investment project code: 49
Warmer homes, lower fuel bills, reduced carbon emissions, and happier communities through the Edinburgh Building Retrofit and Improvement Collective. 
If you are a homeowner or private rental tenant our community-led approach could benefit you!
Your vote will help us empower communities to own the retrofit of their buildings, to gain funding, and carry out upgrade works to get better, cheaper results more easily. Doing so will lower heating costs, reduce carbon emissions, and positively impact the value of people's homes. We exist to help people get better results working together, in communities.
If successful, the funding will do this by accelerating the development of Edinburgh Building Retrofit & Improvement Collective, an existing voluntary organisation. We will engage a project officer and be able to fund the resources to: 
hold events like retrofit roadshows;

create a website for citizens to get advice;

provide forums to share experiences and get support; 

create 'how to' guides for setting up formal associations, applying for funding, submitting for planning consents and procuring contractors to carry out work, providing these guides for free to community groups;

connect groups to support from local architects, skilled tradespeople and other specialists, and 

collectively be a unified voice for communities to speak to council, funders, and other authorities.
Any questions? Ask away here. If you want to get in touch directly, you can send us an email.
We're already working with a number of partners. This funding will help us support more groups and build the resource-base quicker to meet the urgent needs of the cost of living crisis and climate change.
Our initial partners alongside EALA Impacts CIC are: 
Please note: This application is intended to be complementary to the application from Porty Community Energy and Edinburgh Tool Library ('Cosy Homes and Cargo Bikes'), which includes practical workshops for all in home energy efficiency improvement skills and introductions to potential retrofit actions, as well as local assistance in the forming of community groups.
Location: City-wide
Proposed on behalf of: The city-wide collective supporting the development of resilient communities through community-led improvement of buildings, via planned maintenance, retrofit and local heat and energy systems. Edinburgh Building Retrofit and Improvement Collective empowers the local ecosystem of groups working to do these things. A community can be a tenement, a street or a neighbourhood. Working at community-scale offers many advantages and improving whole buildings gives the best results. We develop stronger and more resilient communities in the process.