Go back
Positive Imaginings - Creative Climate Education
•
2023-02-03
•
The Edinburgh Community Climate Fund
•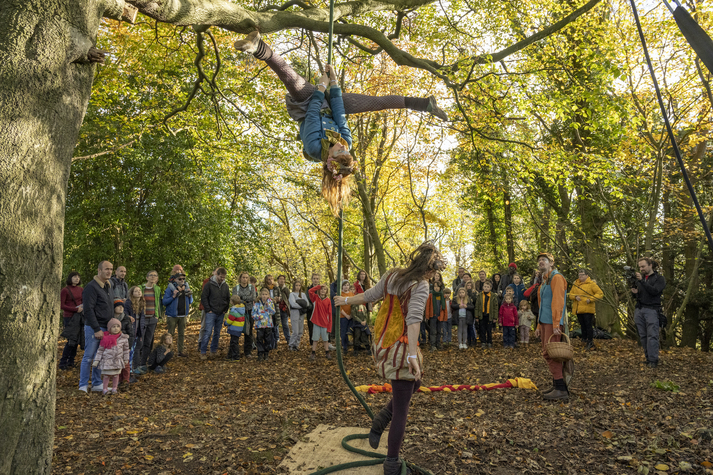 ---
Investment project code: 7
Positive Imaginings is a Creative Climate Education Programme, which artistically presents children's imaginings of a positive future in the face of climate change and biodiversity loss. 
Given the opportunity to explore the twin themes of climate and nature, set in their own neighbourhood, what are your children's ideas for where they live? What future would they choose? What are their positive imaginings?
Positive Imaginings includes: an outdoor promenade performance through urban woodlands ('A Cycling Climate Circus'); woodland workshops; teacher training for primary school teachers and other educators; and an evolving soundscape of children's climate action ideas that is shared far and wide. The whole programme is delivered by bicycle! We use storytelling, circus, music and theatre to connect children with the natural world; to spark joy, a sense of magic and wonder. Small pockets of urban trees become transformed into special places, giving children the opportunity to see their world in a different light. We give children the space, time and support to imagine a positive future in the face of climate change, supporting creative outdoor learning, climate science and citizenship, and staff and pupil health and wellbeing. The programme has been co-created by professional theatre makers, environmental consultants, educators and children to address the climate emergency for a young audience in an informative, meaningful, and positive way. We create opportunities for people who encounter barriers to participating in climate action, to get involved, and feel inspired and empowered. Through our programme of carefully developed activities, we take care of children's mental health by addressing climate anxiety and working with children, parents, carers and teachers to find ways they can take effective climate action in their local community. We listen to children, and value their ideas about the future they want to see, and provide a platform for their voices to be heard. 
Scotland has ambitious emissions targets. We need to turn this ambition into action. However, we urgently need to do so in a way that takes care of our children's mental health. A recent study of 10,000 children and young people in 10 countries (including the UK) found that: 59% are very or extremely worried about climate change; 75% think that the future is frightening; and nearly half said that their feelings about climate change negatively affected their daily life and functioning (Hickman et al, 2021). A report by The Children's Parliament, exploring what Learning for Sustainability means for children, concludes that teachers lack the support and knowledge to deliver on Pupils' expectations. Positive Imaginings creates a sense of agency, and a stepping-stone towards taking the action needed to address the climate and nature emergency, addressing the need to involve everyone in an effective community response to climate change. Working creatively with children in a way that builds resilience and hope.
This funding would enable us to continue to bring our Cycling Climate Circus to Edinburgh Primary Schools and local parks and woodlands, collecting children and young people's positive imaginings, and inspiring change and promoting climate justice. Schools and community groups can apply to take part, and we will prioritise working in low income areas, and with communities that have limited access to the arts and green space. 
Watch a short film of the show here.
"Completely Awestruck! It is hard to put into words the magic that you created today ... Dealing with matters as big as climate change and empowering our children to speak out was so powerful. Every element of this production was so skilfully executed which created this unique outdoor experience. Connecting the audience with nature and the core themes ensured not only our heads but our hearts were engaged. Thank you for bringing this incredible work to Craigmillar! My Positive Imagining is that all children in Scotland get the opportunity to engage with this incredible work of art. Truly empowering." — Kirsten Mack, Outdoor Learning Development Officer and Teacher
"Children need to be aware of the severity of the climate crisis, but they also need to feel that they can do something about it. Fear paralyses but hope galvanises. And Rowanbank's Positive Imaginings initiative is hope on a very large scale because few things are as powerful as the creative arts when it comes to changing the world. I am 100% behind it."  - Abi Elphinstone, bestselling children's author.
Positive Imaginings transported the children from the hustle and bustle of Edinburgh's streets to a world where the children could express their ideas for the future during an entertaining and thought-provoking journey. P7 Teacher St. Peters Primary School
"... the show translates how a lot of us feel just now, especially as parents concerned for the future for our children. It can be overwhelming and it is good to know other people feel the same and want to make a difference." Parent audience member
Location: Leith, Edinburgh
Proposed on behalf of: Rowanbank Environmental Arts & Education is a Community Interest Company specialising in site-specific performances, innovative workshops, forest schools and teacher training programmes. Our aim is to make outdoor learning and creativity, with their many benefits, accessible to all, and to use the arts as a catalyst for change and climate justice.