Go back
A Greener Meadows Festival
•
2023-02-12
•
The Edinburgh Community Climate Fund
•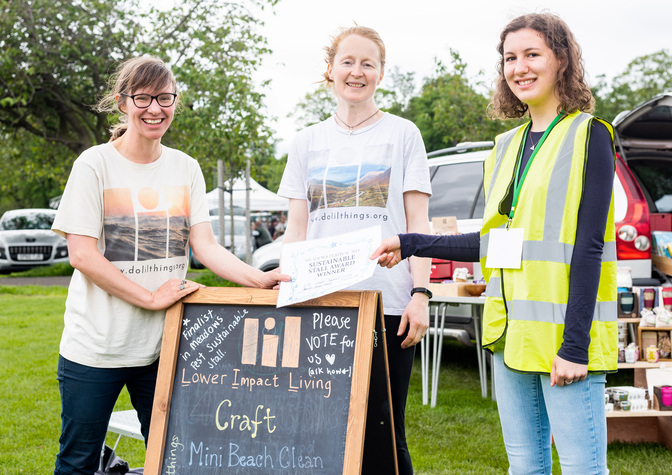 ---
Investment project code: 52
The Meadows Festival understands that now is the time to act on climate change. We're a completely volunteer-run festival, involving people from all communties across Edinburgh for a two-day festival on the first weekend in June. The Meadows Festival has been running since 1975 by the community for the community, supporting local talent and local people to do what they love. The Meadows Festival has a main music stage, a youth music stage, a main bar, local bar, a dog show, kids' area, sports area and performance area. We also have the largest outdoor marketing in Edinburgh, providing a pitch for anyone who'd like to sell their wares or promote their charity or business.
The Green Team was established in 2016 and quickly after we won an 'Improvers' award from A Greener Festival for transforming the festival by introducing a Green Initiative Plan covering environmental sustainability across all areas of the festival and ensuring all stakeholders were involved. The Green Team are applying for this funding so we can do even more to support our mission to be a greener festival. 
Our funding to put on the festival (covering all stages, equipment, toilets, fencing etc) comes from stall holders' pitch fees and other sponsorship opportunities or grants that we're fortunate to get (often limited). This funding from the Edinburgh Community Climate Fund would allow the team to introduce a Green Hub at the festival to create opportunities for community leadership and learning on climate change. We'll do this by working with local partners to put on workshops and have stalls to educate attendees whilst being interactive. The funding will also allow us to reduce our greenhouse gas emissions and contribute to the net-zero target for Edinburgh. We'll do this by reducing our diesel van usage by 75% and use cargo bikes to transport equipment, partnering with local transport providers to promote to attendees, installing temporary bike racks (pending permission), hiring an electric van and using eco-diesel generators.
We plan to partner with Zedify, a zero-emission bike courier, for all deliveries around the city for which we'd usually drive a van. This includes collecting the music equipment, volunteer food, beer kegs and more (up to 250kg per bike). This eliminates our emissions for these journeys and greatly reduces our carbon emissions during the festival, whilst contributing to the net-zero target for Edinburgh. We'd also partner with local transport providers such as Lothian Buses to promote eco-friendly travel to attendees. If agreed by the council, we'd install temporary bike racks at the Meadows during the festival's licensed hours.
The Green Hub would include workshops, talks and stalls from local partners such as The SHRUB, Food Sharing Edinburgh, Spokes, Friends of the Earth Scotland, Zero Waste Scotland and more. This area's purpose would be education and promoting community involvement and leadership. We'd also promote the work of the Green Team at the festival, encouraging anyone to get involved and grow this project at future festivals. We'd introduce a Green Hub at the Kids Area for children to learn more about climate change, environmental sustainability and use eco-friendly products. The fund would also help support a local designer to promote this new area at the festival by designing an online poster with a QR code to be included on our main festival posters.
This funding opportunity would also support the current initiatives we run at the festival including our infamous Sustainable Stall Award which encourages our stalls to act sustainably (we have up to 180 stalls on site, our biggest stakeholders), whilst continuing to work with Food Sharing Edinburgh to donate all left-over food. In 2019, we collected 99.5kg of food, that's 0.48 tonnes of CO2 equivalent saved. We'd ask food stalls to offer at least 3 meat free options and give priority to meat free vendors. We'd provide water to volunteers using a water dispenser, reducing the number of single-use plastic bottles. In 2019, this was reduced by 80%. We'd continue to partner with The Binn Group as our waste removal contractors. All cardboard, plastic, paper and cans were recycled at the Binn Group's material recoverable facility, and all waste from the Meadows Festival was 98% diverted from landfill in 2019.
We look forward to the opportunity to grow the work of the Green Team volunteers at the Meadows Festival! Our group are constantly learning about what else we can do. See you all on the 3rd & 4th June in the Meadows. 
Location: The Meadows, Edinburgh
Proposed on behalf of: Meadows Festival Edinburgh is a group of around 15 volunteers who organise the festival each year. We're a small group with a big love for community engagement and involvement, supporting local talent and giving everyone a platform to grow their skills.